Welcome to the Western Canadian Motorsport Hall of Fame.
Hall of Fame Inaugral Induction Gala
WCMHF Inductees Passed Away
Bob Cantin
Ken Dawson
Jim (Duke) Foster
Paul Jorgensen
Lindsey Rose
Gordon Jenner
Gary Egbert
Jim Ronaghan
   Dick Panter
   Albert Branham
---
Maurice Boissonnault
Gene McMahon
Les Howard
Eldon Rasmussen
Geoff Goodwin
Pioneer Automotive Richard Chevalier 
Midwest Automotive Ken Achs 
Softies Speed Shop 
Wheeler Dealers Terry Cap 
Pacemaker Automotive Ron Hodgson 
JB's Automotive Jim Bell 
Ray Peet's Speed and Auto Ray Peets 
Cycle Works Don Galloway 
Scona Cycle Rudy Zasco 
Turple Brothers Rex & Glen Turple
Calson (Badge) Badgley 
Dwight Kennedy
Mashal Mormyluk 
Sean Moran
Bill Boyce 
Carl Harr 
Marc Duperon 
Tim Gee
Jim Bell 
Walley Protz
Garnet Rose 
John Evanchuck
Tim & Nancy Nemeth 
Ken Beauchemin 
Wade Sjostrom 
Brent Seaman 
Richard Chevalier
2021 Oval Inductee Bill Boyce Passes Away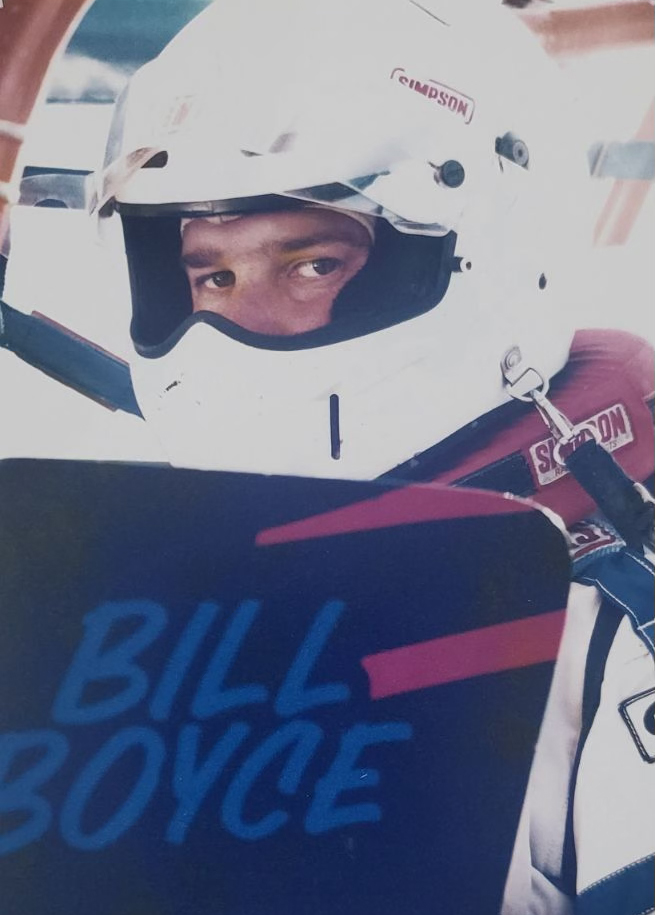 Bill Boyce
1961 – 2023
Bill Boyce passed away in Lethbridge on Monday September 4, 2023 at home with his wife Jane at his side.
Bill was born to Ronald and Theresa Boyce, in Lethbridge, and was raised there with his brother and two sisters. They shared a wonderful childhood at the family home, flying kites and chasing butterflies in Gyro Park. As a young boy, Bill was adventurous and had no fear. This often resulted in broken bones but even that did not stop him for long.
Bill graduated from Catholic Central High School and then from the Southern Alberta Institute of Technology. He worked for Alberta Government Telephones/Telus for forty two years as a network technician. He continued the family legacy, as his parents had met in 1956 while working for AGT. Bill also worked internationally on numerous telecommunications projects. Troubleshooting was his superpower. He was a brilliant man with endless talents and skills.
Bill and Jane met as teenagers and were together for forty five years. They recently marked their thirty ninth wedding anniversary. Together, they created a beautiful home for their sons, Tyson and Caden. Bill was incredibly proud of their accomplishments and the people that they had become. They were everything to him and he loved them so very much. Although he had many opportunities to live elsewhere, Bill never considered moving his family from their roots. Jane and their sons will acutely feel his absence but also draw strength from cherished memories of family gatherings and their extensive travel.
Bill lived life to the fullest. His first words were likely "Go Fast!" If it had wheels, he raced it. By age sixteen, he had followed in his father's footsteps and was racing sprint cars. It would be his life-long passion. He was a fierce competitor and won over 150 feature races plus numerous series championships. The pinnacle of his racing career was being inducted into the Western Canadian Motorsports Hall of Fame and the Electric City Racing Hall of Fame, plus his recent nomination to be inducted in the Knoxville National Sprint Car Hall of Fame. Bill appreciated his fans, valued his generous sponsors, admired other drivers and was awed by the many talents of his pit crews. The racing community will remember him as a friend, mentor and advocate for motorsports. Bill certainly did it all.
Bill was predeceased by his parents, whom he lovingly cared for over the years.
He is survived by his siblings and their spouses Kate and Wayne of Calgary, Bev and Alec of British Columbia, Alan and Pennie of Calgary, their son Steven (Kirbi) of Cochrane; his other nephews, nieces, aunts, uncles, cousins and their families. He will be missed and remembered by all for his generosity and adventurous spirit. Honouring Bill's wishes, there will be no funeral.
If friends so desire, to honour Bill's love for animals, please consider a donation to the Lethbridge & District Humane Society, 2920 – 16 Avenue North, Lethbridge, Alberta T1H 5E9 www.lethbridgehumanesociety.com.